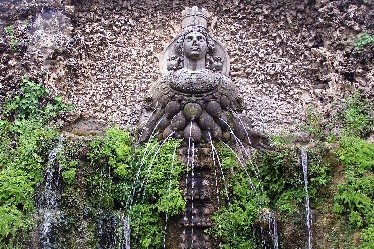 The ancient Sabine city of Tibur, which eventually came to be called Tivoli, located about 25 miles east of Rome, was considered rich and beautiful since Etruscan times. It was also believed to be the seat of the Tiburtine Sibyl, whom Varro calls Albunea, the water nymph who was worshipped at the banks of the Anio river.
Many prominent Romans, incuding the first emperor - Augustus, and his advisor Gaius Maecenas, had villas near Tibur. However, the most incredible and wonderful of all was the villa built and designed by the Emperor Hadrian. In the 16th century, when Renaissance was at its peak, the revived interest in the classical world led to the discovery of this exceptional compound of architecture and beauty: Hadrian's Villa. This coincided with the appointing of a new governor for the city - Cardinal Ippolito d'Este.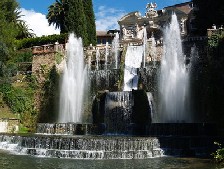 A lover of luxuries and magnificence, Cardinal d'Este became interested in the nearby archeological site, which was being studied by the mannierist architect Pirro Ligorio. After visiting the Villa Adriana, and inspired by its magnificence and utmost beauty, the cardinal decided Pirro Ligorio should begin a new and incredible project, which would somewhat revive the very concept of classical Beauty - the Villa d'Este.
Pirro Ligorio did more than repropose Beauty in the architectural and artistic design of the villa. With the help of some of the most skilled hydraulic engineers of the time, Ligorio adopted ancient Roman techniques, and created a complex Hydraulic Machine that is impressive even in modern times.
Imagine your five senses overwhelmed: by the sight of the art and beauty of frescoes along the walls inside Villa d'Este; by the sound of fresh water constantly running from hundreds of fountains and the music of the hydraulic organ fountain - a marvel uniting art and technology; by the perfume of colorful flowers and exotic trees; by the taste of grapes, pomegranate, lemon, mandarine oranges, and quince; and by the professional touch of your expert docent guide who shall introduce you to a place that you will never forget, a garden that many have called Paradise!
After this incredible visit, we will introduce you to Signora Maria, who shall welcome you to her famous restaurant, opened in 1720, indeed one of the oldest restaurants in Europe. Here, while sipping wonderful wine, contemplating the Temple of the Tiburtine Sibyl and gazing at the breathtaking waterfall of the Anio river, Maria will surprise you with ancient recipies and culinary secrets she inherited from her ancestors. You will have memories of this visit forever, with a smile, we guaramtee it!