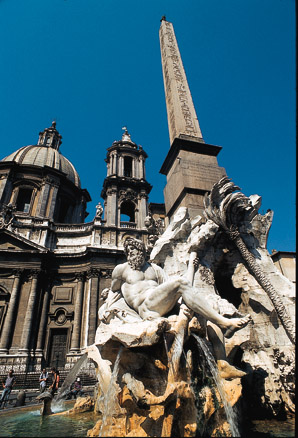 This is the tour of the Roman squares and fountains, the places that have a common name, the "salotti di roma" or "living rooms of Rome." In fact, they do look more like the inside of a luxurious palace, rather than urban streets and squares. Life here never ends! Even on a rainy day in the winter you find people here at all hours.
The Renaissance and Baroque were an age when Art overflowed from palaces onto the streets and squares of Rome. Thus, the city ceases to be a city, and becomes a palace, a great "theater", where the great performance, which is Roman life, is enacted.
We begin our stroll in Piazza del Popolo, at the gates of Rome through which all pilgrims in medieval times entered the Eternal City. We'll walk in front of the Egyptian obelisk at the center of this beautiful square; about 4000 years ago, when it was still in Egypt, Moses walked in front of it, too! According to tradition, the church of Santa Maria del Popolo stands where Nero was buried. Built to exorcise his evil spirit, it is one of the most exquisite churches, and rich of great masterpieces by artists such as Caravaggio, Raffaello, Bernini, Bramante, and many others.
We will proceed to the famous Spanish Steps; then head to the Trevi Fountain, possibly the most magnificent of the more than 2000 fountains of Rome. From there, we will walk to the Pantheon and through the small alleys, into Piazza Navona. These might be mere names for you now, but they will soon become precious and vivid memories of the beauty of Roman life. We will end our stroll in Campo dé Fiori, the heart of Rome, where you will be able to enjoy dinner at one of the numerous restaurants, or simply an ice cream at a typical Gelateria.
Join us! Our guide will walk with you and show you the most wonderful places in Rome, sharing with you the secrets of Renaissance and Baroque, and let you see Roman life, the way it is still lived today in this Eternal City.